Belmont High School competes in the Northern League. The Belmont-Marshall rivalry is one of the oldest in LAUSD history.
Football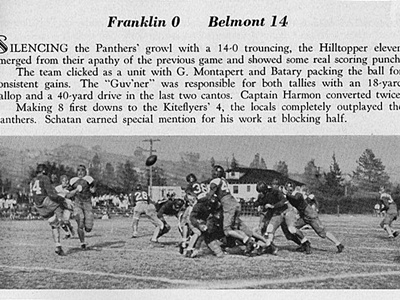 Belmont defeated Franklin 14-0 in 1933
Some of the highlights are:
Belmont varsity football team defeated Wilson High 16-14 with a last-second field goal on Friday, Oct. 24, 1969, Luis Gómez as the quarterback and kicker.
Richard Reid S'66, was named the top player in Northern League basketball in 1966
Boys' Cross-Country in the 1990's won 13 City Sction championships in 16 years
Bill Smith was chosen the 1941 outstanding Southern California high school athlete of the year, and was named to the 1941 All-Los Angeles City and All-Southern California High School Track and Field Team for 10-yard run, high jump and broad jump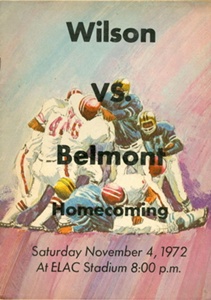 Football program from 1972, Belmont vs. Wilson at ELAC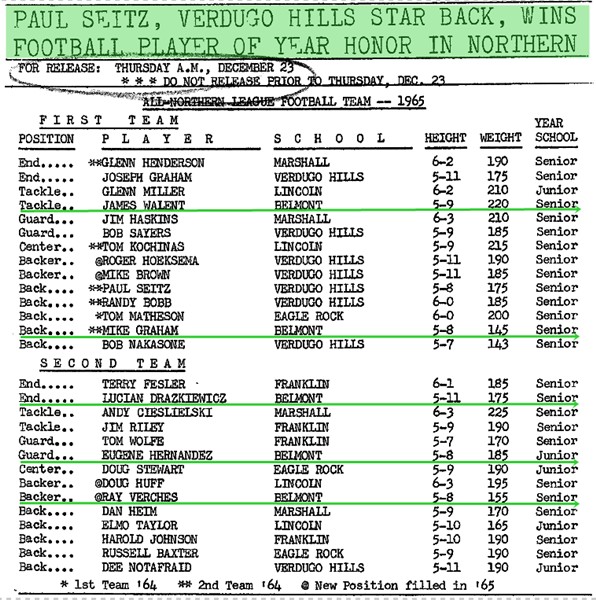 The 1965 varsity football team was honored in the All-Northern League teams. Two players on the First Team and three players on the Second Team.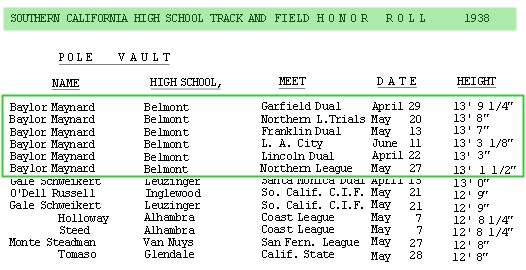 Baylor Maynard in 1938
Notable participants:
Ramone Archie, '84
Coach Yoshito "Tom" Arima, S'48, Belmont alum, and Belmont basketball coach and teacher
Mike Bell, Belmont alum & coach, played at Occidental College with Jack Kemp
Ron Botchan, '53, NFL official, LACC football head coach, played at Occidental College with Jack Kemp
Don Butcher, S'50
LAUSD Commissioner Barbara Fiege
M. J. Frankovich, UCLA, movie producer, LA Coliseum Commissioner
Stan Friedman, Belmont alum & coach, played at Occidental College with Jack Kemp
Luis Gomez, MLB player
Roman Gomez, '85
Coach Joseph K. "Pop" Hollinger
Ken Johnson, '88
Robert Lyles, '79, NFL football
Coach Cameron "Laddie" Mullard, played key role in getting Jack Kemp to Occidental College
Richard Reid, S'66, basketball
Coach Gordon Weisenberger, Sr.
Tom Arima, Belmont alum, teacher, and coach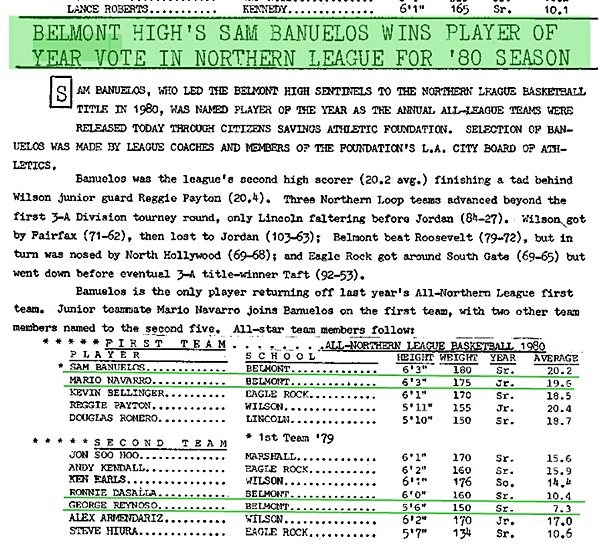 Sam Banuelos, Mario Navarro, Ronnie Dasalla, George Reynoso in 1980
What's New ...
(Date Posted: Saturday Sep 27, 2014 at Belmont's Athletics site)

Congratulations to the Sentinel Varsity Football Team for their 26-12 victory over modern era rival Miguel Contreras LC! The Crown Hill Trophy stays at Belmont with a win over Roybal (High School) on 10/10/14 which is Homecoming 2014!