Go to Recent and Upcoming Events for latest news and reunions scheduled or being planned.
Belmont says goodbye to the following teachers and staff

Retirees-

Roger Butcher
Richard Higa
Doris Hirosawa
John Lackner
Jackie Lang
Richard Ming
Dolores Montante
Maria Olmos
Mary Ellen Rivera
Nury Serrano
Steve Visotsky

Transferring or new career-

Noel Bautista - SouthEast HS
Sandy Drinkward - Fairfax HS
Julie Garrett - Venice HS
Ellen Knight - Virgil Middle School
Lynn Harvey - Santee HS
Gloria Llewyn - Santee HS
Eldiza McCammon - Santee HS
Tony Velie - Santee HS
John Orendorff - North Hollywood Zoo Magnet
Vivian Pittman - Marshall HS
Valerie Schultz - Mayfield High School
Glenn West - Complex Instruction Training (Stanford University)

Mimi Zolla - new career
Gino Iezza - Florida
Glenn Hutloff - Charter School, Malibu
David Maegher - ?
Dr. Birckich - ?
***
Belmont Band and Cheerleaders perform during a football game.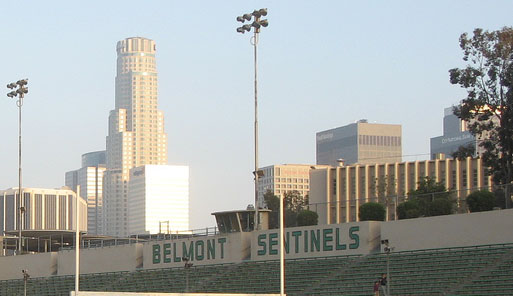 Looking at Los Angeles Downtown from Belmont football field.