The Hotel Belmont was the first noteworthy building to stand atop Crown Hill. Eventually, the hotel was abandoned, and later it was transformed into the private Belmont School for Girls. After the school was destroyed by fire, the grounds were left vacant, except for five oil wells and a pumping plant.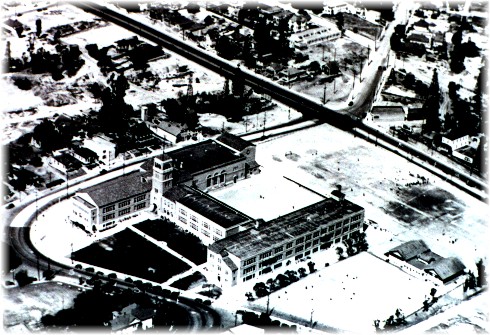 On February 28, 1921, the Los Angeles Board of Education purchased the site for $100,000, for the purpose of constructing Belmont High School.

Belmont opened its doors on September 11, 1923, to about 500 students, all sophomores, and 28 faculty members. Most of the school's traditions were created by those pioneer students during the first months of the school's existence. The school newspaper conducted an election to select its name, with "Sentinel" easily winning over "Progress." To this day, Belmont's studnets are known as Sentinels. In another election, the school's colors, green and black, were selected over brown and white.
Class names were painted on the building wall.